We specialise in professional extensions for the Joomla!®** Content Management System. We have a variety of professional components, modules and plugins, also some products available for free download. These are simplified versions of the commercial products, but fully working. All our extensions are open-source.
Our customers include professional web designers and developers creating websites for their clients, as well as webmasters and website owners looking for well-designed extensions that will add something extra to their site.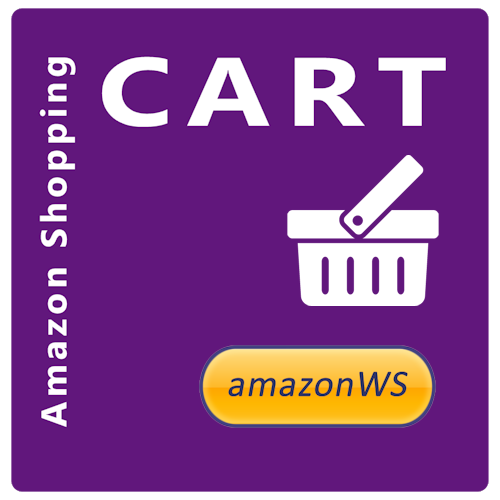 We are happy to announce a new release of our Amazon Shopping Cart extension for Joomla!. Version 1.3.2 is a maintenance release, fixing some bugs:-
Improved layouts for the cart avoid occasional problems with SEF routing
The Admin menu item is fixed, and no longer leads to a non-existent page
Existing customers can download the new version using their current download link. Then install as normal with the Joomla installer, there is no need to uninstall the existing version.
Amazon Shopping Cart is a complete package of Joomla extensions based around our AmazonWS Joomla content plugin, that allows you to create an Amazon store on your Joomla website, including a shopping cart. Customers can browse your site, and add items to their cart without leaving your site: it is only when they are ready to pay that they are redirected to the Amazon website.
Our Amazon Shopping Cart extension for Joomla! includes a handy plugin that allows you to use an editor button to search the Amazon database directly from the Joomla! article editor. It also works with K2 articles, and any other extension that supports editor button plugins. This article explains how to use it.
To use this feature you must first make sure that the AWS Product plugin is enabled, which you do using the Joomla! plugin manager. That is all that you need to do.
Once you have enabled the plugin, if you open up the Joomla! article editor, you should see a button called "Amazon Product" at the bottom of the page. Click the thumbnail below to see a screenshot.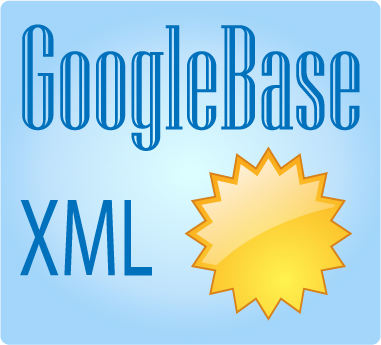 We have a new release of our popular Google product feed component for Joomla and Virtuemart, GooglebaseXML.This extension for Joomla and Virtuemart is designed to take the pain out of submitting your products to Google shopping, by supplying an XML feed exactly in the form that Google likes it.
Version 4.6.10 is a maintenance release which supplies some new options for calculating shipping costs. The feed could already calculate shipping for stores using the standard Virtuemart shipping by weight, however for stores using 3rd party plugins the situation was more difficult. Now you can supply the shipping rates as part of the feed options, and allow it to calculate the shipping costs directly. The options allow for both weight-based shipping, and shipping based on the value of the order.
If you are submitting a feed to Google shopping then you can supply the shipping costs directly through the Google merchant centre, which can be a convenient alternative to supplying shipping costs in the feed. However many other shopping aggregator sites, such as Kelkoo and Bing, will accept feeds in the Google format, and so including the shipping costs will be more convenient if you are wanting to submit your feed to these sites too. This is why we developed the new options.
You can find out more about GooglebaseXML shipping options here.
Find out more
The latest release is compatible with Joomla 2.5 and 3, and Virtuemart 2 and 3. Existing customers who have bought the extension in the last year can update using their existing download link.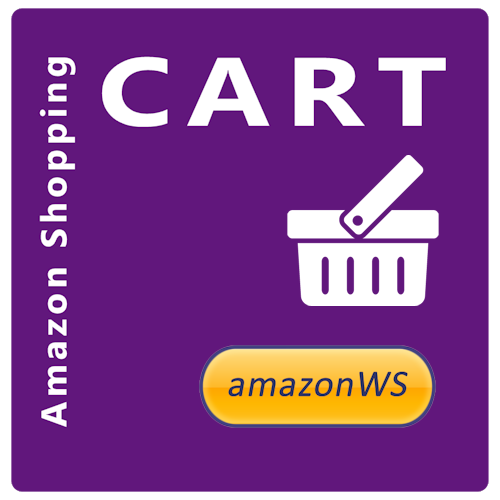 We are happy to announce that the new release of our Amazon Shopping Cart extension for Joomla!, version 1.3.0, now includes new geolocation features. With these features, when a customer visits your site, their country can be detected from their IP address, and they can be shown products from their local Amazon site. The feature is highly customisable: you can select exactly which Amazon site a customer in any country will see, and set the affiliate tag for each country. You can read more about the geolocation features here.
Amazon Shopping Cart is a complete package of Joomla extensions based around our AmazonWS Joomla content plugin, that allows you to create an Amazon store on your Joomla website, including a shopping cart. Customers can browse your site, and add items to their cart without leaving your site: it is only when they are ready to pay that they are redirected to the Amazon website.
Within the cart the customers can have multiple items, can modify the quantity, delete items, or save them for later. If they are logged into your site the cart can also be stored for up to 90 days: useful for people who want to go "window shopping" but are not ready to buy yet.
The package can be used with any Joomla content that supports content plugins, including the native Joomla content component, also for example K2 or Virtuemart, and is compatible with Joomla versions 2.5 and 3. The product information includes your affiliate links to Amazon: when a customer uses your site to buy products, you get paid.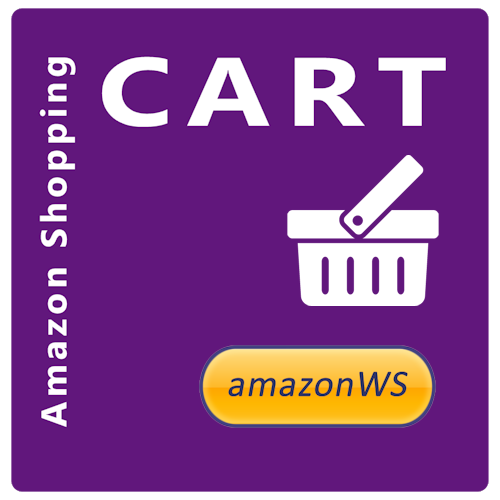 We are happy to announce the release of a new version of our extension, Amazon Shopping Cart. Version 1.2.5. It has several new features: most significantly it can now display products from the Amazon Spain, Mexico and Brazil websites, as well as for the previously supported country sites (USA, Canada, the United Kingdom, Germany, France, Italy, China, Japan and India).
The new version also improves the display on https web pages. The plugin can automatically use a secure iframe url for the Amazon customer reviews, with the result that the reviews can now be displayed on secure pages; also it will use secure urls for the product images, so that these do not generate security warnings.
Read more: Amazon Shopping Cart now supports Spain, Mexico and Brazil
We are pleased to announce the release of a new extension, Affiliate Window for Joomla!, a new affiliate publishing tool for your Joomla website.
Affiliate Window is an advertising network representing many of the largest UK, USA and Canadian businesses. If you publish a website in one of these countries the network is a great way to earn extra revenue for your site through affiliate advertising.
Our Affiliate Window extension offers an easy and flexible way to integrate the network into your Joomla site. It uses the Affiliate Window ProductServe API to automatically fetch products and add them to your site. It is easily customizable, and can be used in a variety of ways:-
You can create a complete shop;
or list only products belonging to a particular category, such as jewellery, or electronics;
or list only products from a chosen retailer;
or embed individual products that you wish to feature in your Joomla articles.
Search Engine Friendly
The extension creates nice, keyword-rich URLS derived from the category and product names. Even better, the Affiliate Window content plugin which is distributed as part of the package allows you to add product information directly into your Joomla articles, making it straightforward to include in your own content. The days are long gone when thin affiliate sites could hope to rank well with Google: what search engines favour these days is unique content, the plugin provides a simple way to add product links.
Our paid download plugin for Joomla and Virtuemart now supports Amazon S3. This plugin is designed to allow you to offer paid downloads as products for sale in Virtuemart, by allowing you to attach the download to the product as a custom field. It allows you to restrict either the number of downloads, the time limit on downloads, or both.
Plugin Features:-
Supports both files hosted on your own server and Amazon S3;
The customer can only download the file once payment is confirmed;
Downloads can be restricted either by number of downloads or time period - or both;
Download entitlements can be edited for individual customer orders, for example you can increase the number of downloads a particular customer is entitled to;
Download restrictions are applied to the custom field not the downloaded file, so you can change the file, for example, if you want to release a new version;
Download security, customers are not able to download anything they are not entitled to by manipulating the file id.
You can attach as many downloadable files as you want per product;
The plugin supports either a simple file download, or display/play in the browser (eg for JPEGS or MP3 files)
The plugin can simulate file streaming, you can set a maximum download speed, useful to reduce the load on the server if you have a lot of downloads or big files
You can read more about and buy the plugin here.
You can read the plugin tutorial here for a fuller description.
Missing images can cause page loading problems for your Joomla site. Each time a missing image is requested, the CMS generates a 404 page, which requires a separate loading of the CMS and running a whole lot of SQL queries. If you have several of these it can substantially increase page loading times, and can place a significant extra load on your server. In a simple experiment, where I turned on the Joomla debug output and tried to load a non-existent image on my site called http://mysite.com/images/none.jpg, by typing its non-existent address into my browser bar, it required no less than 87 queries just to generate a 404 error page. Imagine if you have several missing images on your pages, then you can see that the problem can become substantial, because each one will generate a separate load of the CMS. You may not even be aware of the problem: a 1x1 pixel png can generate exactly the same error as a large JPG. Moreover the image may not be one that you would easily miss on your site: it could be a small background image requested in a css file.
And of course the problem is not just limited to images, a missing css or javascript file will generate the same problem, although you are perhaps more likely to notice the effect of a missing file (eg unexpected javascript errors) and do something about it.
In this article I discuss why this happens (because really it should not) and suggest a simple way to solve this problem.
Add a comment
Virtuemart is a popular open source e-commerce extension for the Joomla! content management system. We have a number of extensions written explicitly for Virtuemart that will enhance your store:-
You can view examples of these extensions in our Virtuemart Extensions Demo Store.
Below: A screenshot of our HTML5 slideshow for Virtuemart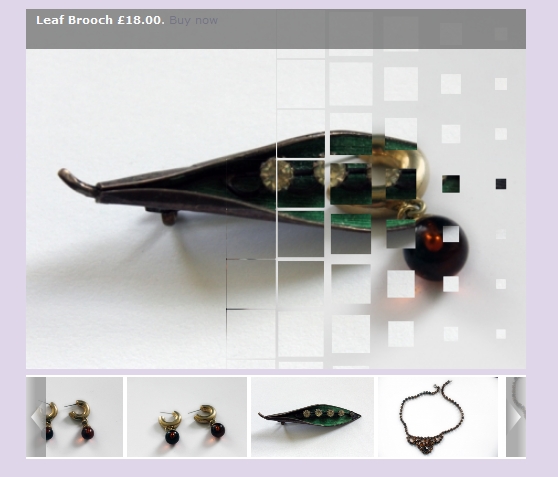 Add a comment