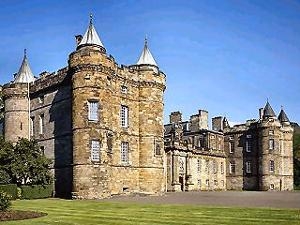 An investigation is under way after plans of the Queen's official residence in Edinburgh were found near a footpath.
The drawings of the Palace of Holyroodhouse show details of the Royal Mews and the public cafe.
Security chiefs say the matter is being taken very seriously although the plans are not believed to have featured secure parts of the building where the Royal Family stay.
The architect's drawings were discovered under a bush on a path leading to the Water of Leith, in Roseburn, Edinburgh.
The drawings, with an accompanying letter, were found by the Daily Record newspaper's agony aunt, Joan Burnie, as she took her Jack Russell terrier Polly for a walk.
She said: "Polly saw them underneath a bush on the path and came out with the plans in her mouth.
"I took them from her to see what they were and that's when I saw the letter. I was shocked to see the plans were for Holyroodhouse."
The paper reported the plans showed power ducts, cables and a transformer, as well as the sizes of the gardens and locations for boiler rooms, gas meters, store cupboards, kitchens, toilets and wash areas.
Three public entrances are highlighted and the dimensions of the stable yards and seated terrace areas are given, it reported.
A spokeswoman for the palace said: "We acknowledge this has been a security breach which we are taking very seriously and are currently investigating."