The Amazon Similar plugin and module (distributed as part of the Amazon Shopping Cart package) optionally allow you to display similar products to the main featured products, a good way to add extra buying opportunities for the customer.
Andoer® Western Concert Flute Cupronickel Plated Silver 16 Holes C Key...
Binding: Electronics
Brand: Andoer
Studio: Andoer
Label: Andoer
Publisher: Andoer
Manufacturer: Andoer
Features:
Made of cupronickel, C key flute with 16 holes.
Exquisite and stylish design to satisfy your taste.
Little cork grease to offer help to assemble things together.
With a plastic stick and cleaning cloth to keep flute dry and clean.
Supplied with a screwdriver and a pair of gloves to match your need better.
View more sizes/colors/varieties
Product Description: The flute is made of cupronickel, C key flute with 16 holes, exquisite and stylish design to satisfy your taste.
Specifications:
Main material: Cupronickel
Color: Purple / Black / Blue(optional)
Package Size: Approx.41.5 * 14 * 8cm / 16.3 * 5.5 * 3.1in
Package Weight: Approx.1153g / 2.5Lb

Note:
Item color displayed in photos may be showing slight difference on your computer monitor due to the light or different monitors. Thanks for your understanding.

Package List:
1 * Flute
1 * Cork Grease
1 * Blue Cleaning Cloth
1 * Orange Cleaning Cloth
1 * Cleaning Stick
1 * Screwdriver
1 * Gloves
1 * Case
Reviews
More Results..
Odyssey OFL100 Flute Outfit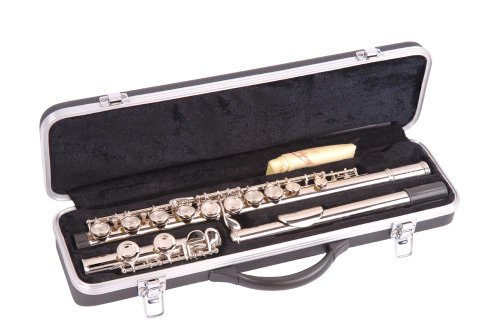 Binding: Electronics
Brand: Odyssey
Studio: Odyssey
Label: Odyssey
Publisher: Odyssey
Manufacturer: Odyssey
Sale Price:

£169.00

£148.04
You save:

£20.96
View more offers
Buy New From:

£144.99
Features:
16-hole flute with nickle-plated body / headjoint / keys and rugged case
Stainless steel rods, springs and pins
Offset G Key and undercut, rolled tone holes
Lip plate and Embouchore hole designed for ease of blowing
Adjustment screws included
Reviews