Spiral Scripts News
| | | | |
| --- | --- | --- | --- |
| New Release Version 1.0.8 GooglebaseXML Component for Virtuemart | | | |
Monday, 25 July 2011 10:42
We have a new release of our GooglebaseXML component. This Component for the Joomla 1.5 Content Management System generates a product data feed for your Virtuemart store. This feed can be uploaded to your Google Merchant centre account.
The latest version, 1.0.8, includes support for 1 new country: Australia.
Version 1.0.8 also changes the availability options to support the new values:
'in stock'
'available for order'
'out of stock'
'preorder'
Existing customers who have already bought the product can download the latest release using their existing download link.
| | | | |
| --- | --- | --- | --- |
| New Image Generator Component for Joomla | | | |
Thursday, 21 July 2011 13:41
We are happy to announce a completely new component, which we are calling Imgen, the image generator for Joomla.
This component for Joomla 1.5, 1.6 and 1.7 allows you to dynamically resize and compress your site images. It includes a plugin framework, and is available with plugins to add a watermark, and to apply dynamic resizing to all your article images.
The component can cache the resized images, and also allows you to encode the image path, which is useful if you want to hide the location of your original image files.
The method of accessing the image resizer is very simple, you just pass the image to the component in an URL. This means that the image generator could potentially be integrated quite easily into any Joomla extension.
For more information see the documentation page.
Last Updated on Saturday, 29 October 2011 14:17
Read more... [New Image Generator Component for Joomla]
Saturday, 02 July 2011 10:06
Are you using one of our extensions on your site? Would you like to show it off?
We are planning a new section of our site features links to live sites that use our extensions. If you would like your site to be featured just send as an email to This e-mail address is being protected from spambots. You need JavaScript enabled to view it , with the name of your site, a short description of your site, the name of the extension and a link to a URL where the extension can be seen in action.
Last Updated on Monday, 05 December 2011 15:25
| | | | |
| --- | --- | --- | --- |
| Amazon Web Services Plugin: Version 2.4.0 | | | |
Friday, 17 June 2011 13:55
The latest release of our Amazon Web Services content plugin for Joomla 1.5 and 1.6, and for Mighty Extensions Resources, is version 2.4.0.
This release includes several improvements:-
It adds support for display of multiple Amazon products
For improved ease of use the embedding code is now case insensitive
Improved button graphics
Last Updated on Saturday, 27 August 2011 11:43
Read more... [Amazon Web Services Plugin: Version 2.4.0]
| | | | |
| --- | --- | --- | --- |
| New Virtuemart Flash Slideshow Release | | | |
Wednesday, 08 June 2011 17:48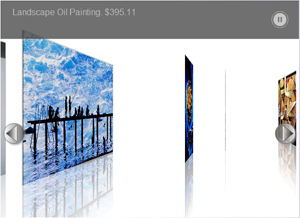 We have a new release of our Flash slideshow modules for Virtuemart: Mod VM Flash Slideshow Version 2.2.0, and Mod VM Flash 3D Slideshow Version 2.2.0. These highly versatile modules for Joomla and Virtuemart can display images for your products in attractive Flash slideshows, using a variety of product display, including top products, recent products, random products, featured products and product categories.
The latest releases of the modules include some useful improvements:-
The modules can now display all product additional images as well as the main image
The module display can now be restricted to specific pages, such as the product flypage
The module can display images for the product currently being viewed, using the url to detect the current product id
It is possible to restrict the display to parent or child products only
The price display is improved, to include product discounts
Last Updated on Saturday, 29 October 2011 14:17
Read more... [New Virtuemart Flash Slideshow Release]
<< Start < Prev 1 2 3

4

5 6 7 8 9 10 Next > End >>


Page 4 of 13