Spiral Scripts News
| | | | |
| --- | --- | --- | --- |
| Version 2 of GooglebaseXML Released | | | |
Tuesday, 11 October 2011 13:46
Version 2 of Com GooglebaseXML, our component for Joomla 1.5 and Virtuemart 1.1x is now released.
This component allows you to create an XML product feed for your Virtuemart store for upload to Google Merchant Centre. The latest release includes several new features designed to give you a more accurate and informative product feed. These include:-
Product variant display
Support for additional product attributes such as size, color etc
Support for the Google Category attribute
Additional countries, those supported are now: United States, United Kingdom, Germany, France, Japan, the Netherlands, Spain, Italy, China, Australia, Brazil and Switzerland
Support for sale_price, and sale price effective date attributes
Additional product images
Feed can use Virtuemart product type data fields
Version 2 is designed to be much more flexible about the product information that can be displayed. An entirely new feature is the use of Virtuemart product type information, which can be incorporated into the data feed to allow you to customize the data sent to Google for each product.
Version 1 of Com GooglebaseXML was one of our most popular products, we hope this new version will be even more popular with customers, as our aim is to make it a highly effective tool for submitting your products to Google product data search.
Last Updated on Monday, 23 January 2012 17:57
Read more... [Version 2 of GooglebaseXML Released]
Wednesday, 14 September 2011 13:59
The long awaited new release of Com Jigsaw, our Flash puzzle game for Joomla, is now available. This component allows you to turn your site images into a jigsaw puzzle, and is great fun for adults and children. It will load images from any site folder you specify, and automatically turn them into a puzzle.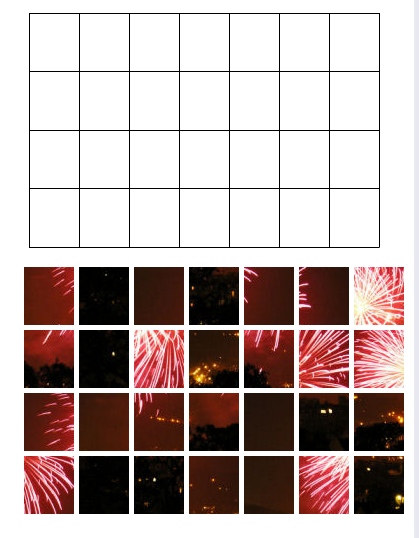 Version 3 includes some great new features:-
The layout is completely flexible, it can be resized to any dimensions required, to fit into any site;
unlimited images can be displayed;
the puzzle now includes a timer, user time scores are now uploaded to a database table and displayed;
social sharing buttons encourage users to advertise your site by posting the puzzle to their Twitter and Facebook accounts
Last Updated on Wednesday, 14 September 2011 14:17
Read more... [Jigsaw Version 3]
| | | | |
| --- | --- | --- | --- |
| Amazon Web Services Plugin Version 2.4.2 | | | |
Thursday, 11 August 2011 09:57
The latest release of our Amazon Web Services content plugin for Joomla 1.5, 1.6 and 1.7, and for Mighty Extensions Resources, is version 2.4.2. This content plugin allows you to embed product information and reviews and links from Amazon Web Services into your Joomla articles.
This release includes several improvements:-
It adds support for Joomla 1.7
It adds support for the latest version of the Amazon product advertising API (2011-08-01)
It adds support for the new Italian and Chinese Amazon product advertising APIs (see https://forums.aws.amazon.com/ann.jspa?annID=1115)
Last Updated on Thursday, 11 August 2011 10:03
Read more... [Amazon Web Services Plugin Version 2.4.2]
| | | | |
| --- | --- | --- | --- |
| New Release Version 1.2 of Featured Items Flash | | | |
Tuesday, 09 August 2011 16:42
We are pleased to announce updated release of our Flash extensions for Joomla 1.5, 1.6 and 1.7, modules Featured Items Flash, and Featured Items Flash 3D. These modules display images from your Joomla articles as Flash slideshows, with clickable links to the articles - a great way to enliven your Joomla site.
Unlike many Flash extensions, these are fully integrated into the Joomla content management system, so there is no messing about with XML data files, you just choose the articles to display in the module administration. The modules will automatically detect the article images and display them in the slideshow gallery. As well as being compatible with the Joomla core content component, these modules support Mighty Extensions Resources, and the K2 content component. They can integrate with social components such as Community Builder, Mighty Touch and JomSocial, to show images from articles by the currently profiled user.
The latest release of the modules adds support for displaying multiple images per article and improves the quality of the image display.
Last Updated on Monday, 05 December 2011 15:24
Read more... [New Release Version 1.2 of Featured Items Flash]
| | | | |
| --- | --- | --- | --- |
| New HTML5 Slideshow for Joomla | | | |
Tuesday, 26 July 2011 11:14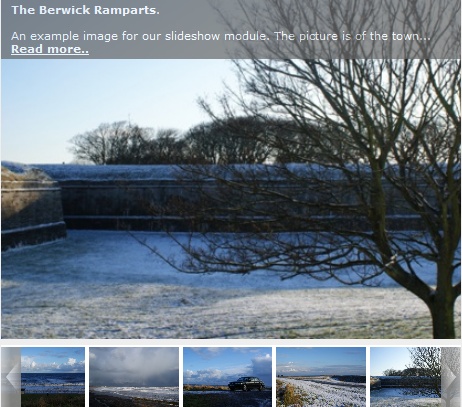 We have a new release of our slideshow module for Joomla, mod Featured Items Slideshow. This module can display images from your Joomla! articles as a slideshow, with a caption taken from the text, and a link to the articles. The module finds your article images automatically, the administrator just needs to pick the section or category, or the individual articles.
Version 2 includes a completely new HTML 5 layout, supporting a variety of image transition effects.
The latest release also includes several other improvements:
the controller display is now optional
the slideshow speed is now optional
multiple images can be displayed from each article
improved image resizing now allows you to specify the exact width and height of each image displayed.
Last Updated on Tuesday, 26 July 2011 11:47
Read more... [New HTML5 Slideshow for Joomla]
<< Start < Prev 1 2

3

4 5 6 7 8 9 10 Next > End >>


Page 3 of 13