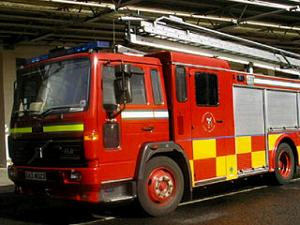 A freight train transporting oil and diesel has derailed and caught fire in Scotland. The accident happened at around 6.15am near Stewarton in Ayrshire. One carriage is alight but no-one was injured in the incident, Strathclyde Police said.
The train - travelling between Mossend in Ayrshire and Riccarton near Kilmarnock - hit a pylon after the rear section of the ten-wagon freight train became derailed about half a mile from Stewarton.
Scottish Power said up to 100 homes in the Kilmaurs area of Ayrshire have lost electricity as a result of the crash.
Strathclyde Fire & Rescue said there are six fire pumps and a heavy rescue vehicle at the scene.
Chief Superintendent Martin Ripley, of British Transport Police, said: "A freight train which was coming in to the depot has caught fire. The freight train is carrying diesel."
Two carriages were thought to be on fire and he said: "I believe it's a fairly big and intensive fire."
One of those carriages, carrying diesel, had come off the line.
But the officer said: "I can tell you there are not injuries and the matter is contained.
"We have experts coming to the scene and hopefully, towards the end of the day, we may be in a better position to establish why this has happened."
Network Rail said disruption is likely to go on for much of the day.
Local train services between Barrhead in East Renfrewshire and Kilmarnock have been stopped and alternative arrangements put in place for travellers.
Buses are replacing trains between Barrhead and Kilmarnock. Meanwhile, the Glasgow to Carlisle service is running via Barassie.
A British Transport Police (BTP) spokesman said: "BTP can confirm that at approximately 6.25am this morning we received reports of a freight train on fire outside Stewarton rail station in Ayrshire.
"No injuries have been reported and the driver has been accounted for. The local fire brigade is on scene alongside BTP officers. The Rail Accident Investigation Branch has been informed and are attending."
The freight train is operated by DB Schenker.
A spokesman for the firm said: "Shortly after 6am this morning, a train conveying aviation fuel from Mossend to Prestwick in six wagons became derailed.
"Five wagons are derailed and one wagon is on fire. The emergency services are in attendance and there have been no injuries."